Managing Expectations for the Ukraine Offensive
CIPHER BRIEF REPORTING — Since Russia's invasion of Ukraine last year, the U.S. has allocated more than $75 billion in military, economic, and humanitarian support to Kyiv, in [...] More The post Managing Expectations for the Ukraine Offensive appeared first on The Cipher Brief.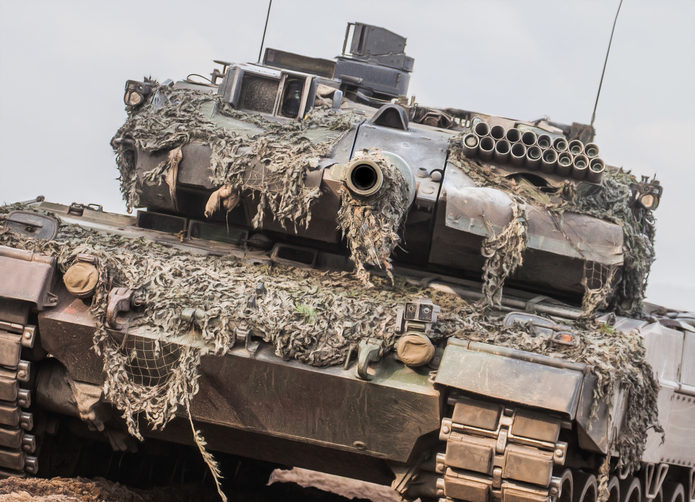 CIPHER BRIEF REPORTING — Since Russia's invasion of Ukraine last year, the U.S. has allocated more than $75 billion in military, economic, and humanitarian support to Kyiv, in what amounts to the largest series of US-aid packages to a European country since the days of Harry Truman's Marshall Plan.
"We've given from the West the best kind of preparation that we could give for this force," said former Supreme NATO Allied Commander, Gen. Wesley Clark. "[But] ultimately the greatest factor is likely to be the determination of Ukraine to regain its territory. It's the will to fight, it's the courage of the soldiers at every level."
Speaking at an Atlantic Council briefing last week, Clark then outlined his concerns about the relative readiness of Ukrainian commanders "at each level, and most importantly, the soldiers at the bottom." 
"Can they respond effectively under fire with their own artillery? Can they fend off a Russian airstrike against their unit as it's on the move?" he questioned.
"Why am I concerned? Because you always have to put yourself in the mind of an enemy commander on this, and what would you do?" he added. "This war is different than any previous wars the United States has seen and certainly anything different that the Russians have seen in that operational security is extremely difficult in this environment. There are drones, there's satellites, there's electronic information, there's all kinds of reconnaissance and counter reconnaissance."
If successful, the Ukranian counter-offensive will nonetheless be "a slog" and a "gnawing through," Clark said. [It would] "be wonderful if the Russian forces collapse. [It would] be wonderful if it's over in three weeks. Don't be counting on that. Don't listen to those people who build up these expectations, it's really dangerous strategically for us."
But as spring inches toward summer, and with additional western-provided tanks and armored vehicles bound for the battlefield, President Volodymyr Zelensky appears in no hurry to rush his forces eastward.  "With what we have we can go forward," Zelensky said in an interview earlier this month. "But we will lose a great many people … So we need to wait. We need some more time."
"We are still expecting some things," added Zelensky, who wrapped up talks at the Group of Seven (G7) summit in Japan this weekend in a bid to augment support for Ukraine.
---
It's not just for the President anymore.
Are you getting your daily national security briefing? Subscriber+Members have exclusive access to the Open Source Collection Daily Brief, keeping you up to date on global events impacting national security.It pays to be a Subscriber+Member.
---
During that same summit, President Joe Biden not only announced another military aid package, this one to the tune of $375 million, but he also said the U.S. will support training Ukrainian pilots on F-16 fighter jets, while allowing European countries to transfer the advanced jets to Kyiv. The move quickly prompted Russia to warn of "enormous risks" if the planes were indeed delivered, with Russia's Deputy Foreign Minister Alexander Grushko adding that such transfers show that Western countries are "adhering to an escalation scenario." Russia's Ambassador to the U.S. Anatoly Antonov also noted that any Ukrainian attack on occupied-Crimea will be seen as a strike on Russia itself.
And yet Ukraine's growing arsenal of weapons already boasts the sort of range that could prove problematic to Russian defenses. Over the weekend, reports of British supplied Storm Shadow missiles – with a range of 155 miles – rained down on the Russian-held port city of Berdyansk. Such weaponry bolsters the Ukrainian use of medium-range High Mobility Artillery Rocket Systems (HIMARS) that it began employing last summer, and whose software has more recently been subject to Russian jamming.
The new capacity is widely thought to increase the potency of Ukraine's coming charge, but there is "no counting of chickens" before they "hatch," Clark warned.
"In the real world, there's little indication that Putin is ever going to become willing to abandon his maximalist goals in Ukraine and concede to a defeat," said Jennifer Cafarella, Director of Strategic Initiatives at the Institute for the Study of War (ISW).
Russia has yet to call up additional rounds of troops, and has used its hypersonic air-launched Kinzhal missile to bombard Kyiv (despite the employ of U.S.-built Patriot missile defense systems), and is heavily fortified along several parts of the 900-mile-front.
Ukraine ultimately hopes, Clark said, "to drive out Russian forces out by penetrating Crimea, dislocating Russian logistics in the rear, and then sweeping in on a second offensive to go through Luhansk and Donetsk, and roll the whole thing up." 
"This is not going to be a blitzkrieg that's over in two weeks," he added. "Logistics is a priority. And we know that the United States and the West have not successfully dealt with the logistics problems that face this plethora of equipment that's coming in." 
Courtney Kealy contributed to this report.
---
Read more expert-driven national security news, analysis and opinion in The Cipher Brief because National Security is Everyone's Business.
The post Managing Expectations for the Ukraine Offensive appeared first on The Cipher Brief.